How to Easily Erase Objects from Your Photos with Online Tools: The Most Realistic Review of Online Object Removers
Taking beautiful pictures that are free of unwanted objects and distractions can be a challenge. Whether it's a person walking into the frame or a signpost in the background, unwanted objects can ruin a perfect photo. Fortunately, with the help of object removers, you can easily erase those unwanted objects. This thorough evaluation will provide an overview of some of the top-ranked online object erasers and demonstrate how to apply them to swiftly and effortlessly eliminate annoying interruptions in photos. We'll cover the characteristics of each object remover, the user experience, and how accurate the outcomes are. So, if you're looking for the most realistic way to erase unwanted objects from your photos with online tools, this is the review for you.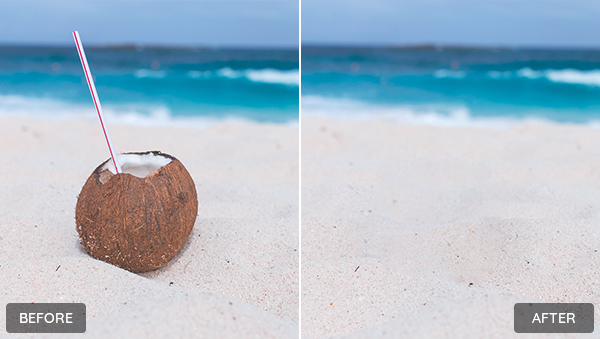 If you want to remove unwanted objects from photos on your mobile devices like iPhone or Android Phone, please click here to learn more.
Online Tools to Erase Objects
1. Magic Eraser
Magic Eraser is one of the 5 online tools in Magic Studio. It allows users to remove unwanted things in seconds. The most impressive thing about Magic Eraser is its clean and simple interface, without a single advertisement. The operation is simple, and the way to erase objects from the photo is the same as most online tools, which are manually scribbled to select unwanted objects.
Price: You can use it for free, but the quality of the uploaded images is compressed, and you can only download low-res images after processing. In the FREE plan, download is limited to 400 x 600 px. There is no restriction on using the tool to remove objects with a pro subscription, which costs you $9.99/month.
Final Result: not bad, but the processed image is really compressed and a bit pixelated when you zoom in.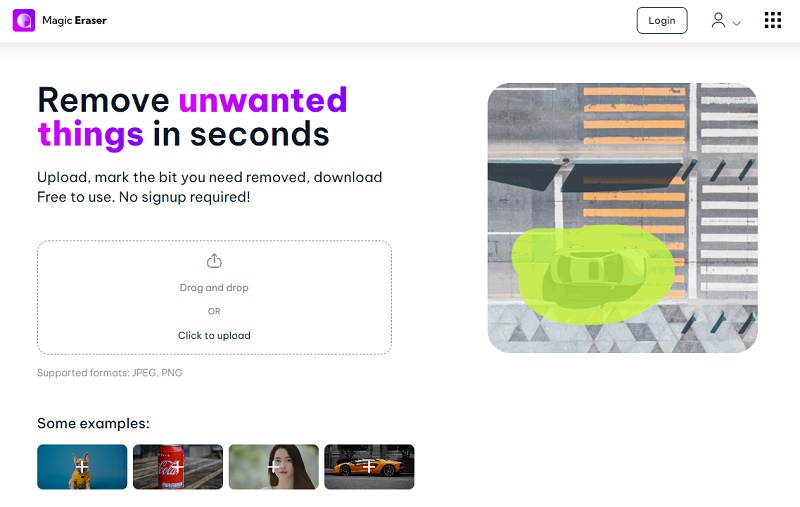 2. AVC.AI
AVC.AI is a comprehensive online tool, it is not only an object remover, but also a photo enhancer. Unlike other tools that can only be used to erase object clutter, it has 7 different AI models corresponding to different features that allow you to solve multiple image problems on one page, such as upscaling low-res images, denoising, restoring old photos, etc. Focusing on its feature to erase objects, it is totally free to use and has no restrictions on editing and downloading images.
Price: Totally free to erase objects from photos with AVC.AI. It consumes credits to use other models collected in AI enhancer, but you will be awarded some free credits for your first registration, or you can also get free credits by following their YouTube, Facebook or Twitter.
Final results: Natural, but the processing time is a few seconds slower than other tools.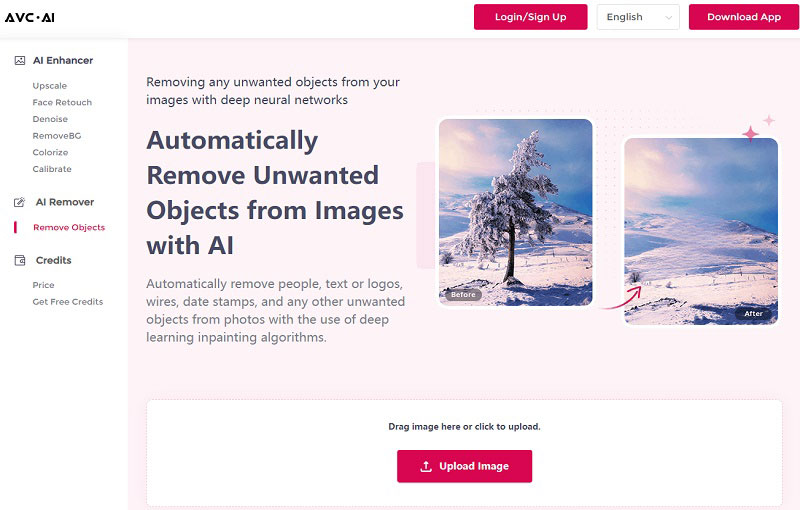 3. SnapEdit
SnapEdit stands out for its AI-enabled object recognition capability that allows you to pick out elements without having to do it by hand. However, this applies only to identifying objects such as people and trees. It can sometimes not fully recognize every object in a picture, like a watermark or especially when it is cluttered and there are no clear boundaries between objects. In that case, you have to cover unwanted parts manually. The only issue that has been noted is the presence of ads on the homepage.
Price: Totally free and doesn't have restrictions.
Final results: good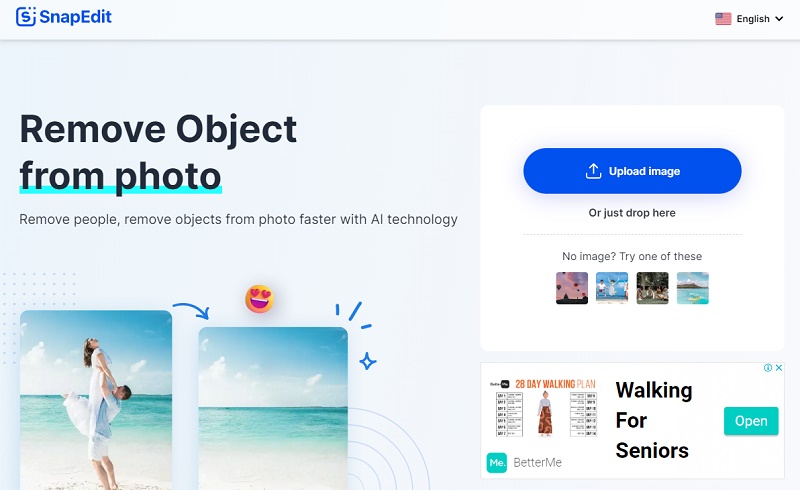 4. Cleanup.pictures
Cleanup.pictures is also done by painting the unwanted objects and then clicking on the remove button to erase them, but the difference is that the other tools start the removal process only after all the objects to be removed have been painted, while this tool starts the erasing process as soon as it is painted. Overall, in terms of ease of use, although the final is good, the tool is not as convenient and not suitable for fine selection.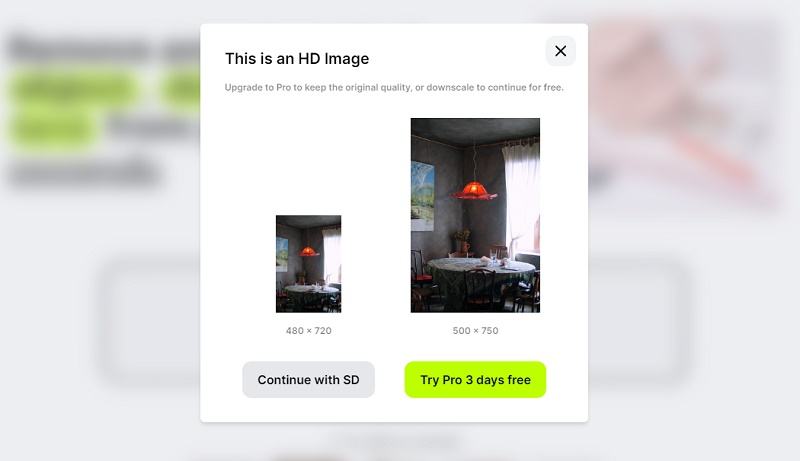 Price: The import resolution will be limited to SD and the export will be limited to 720px for the free version. The pro subscription costs $5 per month or $48 per year.
Final results: good
---
Detailed Tutorial on How to Erase Objects from Your Photo---Take AVC.AI as an Example
Since these online removers all work similarly, this article only selects the most universal one as an example to demonstrate how to remove objects from photos.
Vist AVC.AI with any browser. Click on the 'Remove Objects' option on the left panel and then click 'Upload Image' or drag and drop to add pictures.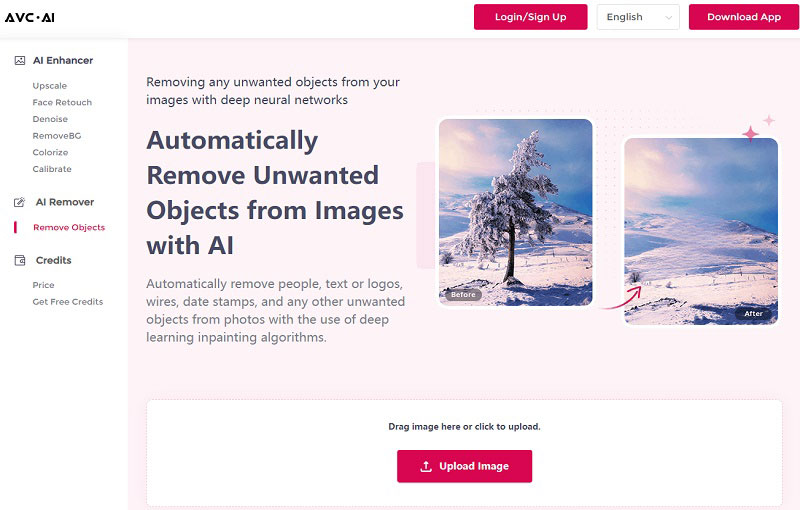 If you are using tools like SnapEdit, you can make full use of its AI recognition function. For most of the online object removers, you need to cover all the unwanted objects manually with the brush tool.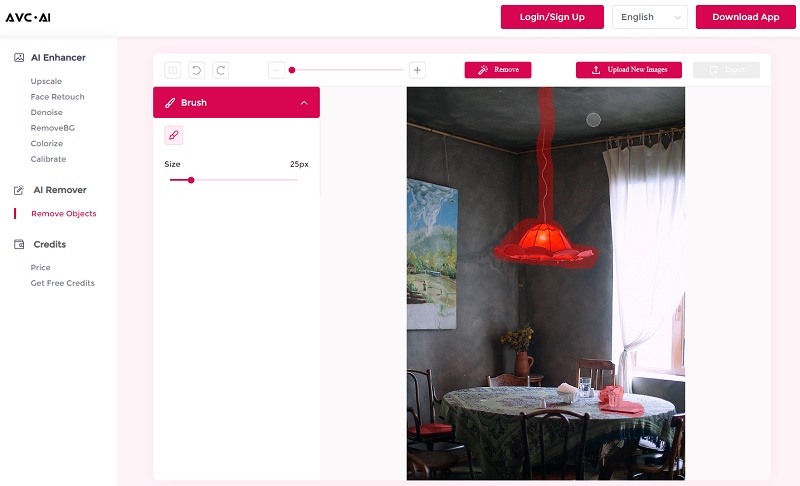 Once all the unwanted objects are covered, you can click the Remove button to start the process.
Step 4
Preview and Download Processed Images
After the process is finished, you can press the Contrast button located in the top-left corner to compare the before and after images. If you are satisfied with the final results, then click on the Export button to download the processed image. If not, you may need to repeat steps 2 and 3.
---
Conclusion
The above object erasers are not much different from the effect point of view, and some of them need to be applied repeatedly to achieve a perfect state. In fact, no tool can guarantee the best results from a single process, especially when the processed objects are messy or the selection is not so fine. On the whole, they all performed OK, similar but different. Everyone has different criteria for choosing one, after reading this review, just pick one that interests you and give it a try.
---
Highly Recommended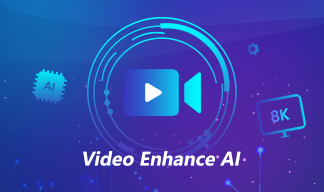 AVCLabs Video Enhancer AI
AVCLabs Video Enhancer AI is an AI-based video enhancement software to upscale video from 480p to 1080p, 1080p to 4K, and up to 8K. With AVCLabs Video Enhancer AI, you can upscale low-res videos to high resolution and bring your old videos a stunningly new look.
Learn More


Video Converter

DVD Converter

Video Editor

Enhance Video Quality

Enhance Image Quality

Remove Objects