Top 3 Best AI Image Enlargers to Enlarge Images without Losing Quality
"Can I make an image bigger without losing quality? What is the best AI image enlarger for enlarging the image without losing quality? Help, please." - Joe
Enlarging images without losing quality is a hard case to work on. You may be a social media influencer, blogger, graphic designer or perhaps, you have an ecommerce store where images you post play an important role. Honestly, low-quality images do not have the eye-capturing ability or aren't going to give the impact that you are looking for.
Thanks to image enlargers powered by AI image enlarging technology, making low-resolution images professional and marketable can be possible. Here we have collected the top 3 best AI Image Enlargers in 2023 to help you convert low-quality, low-resolution images into bigger and higher-resolution results for marketing campaigns, printing, banners, eCommerce, presentations, etc.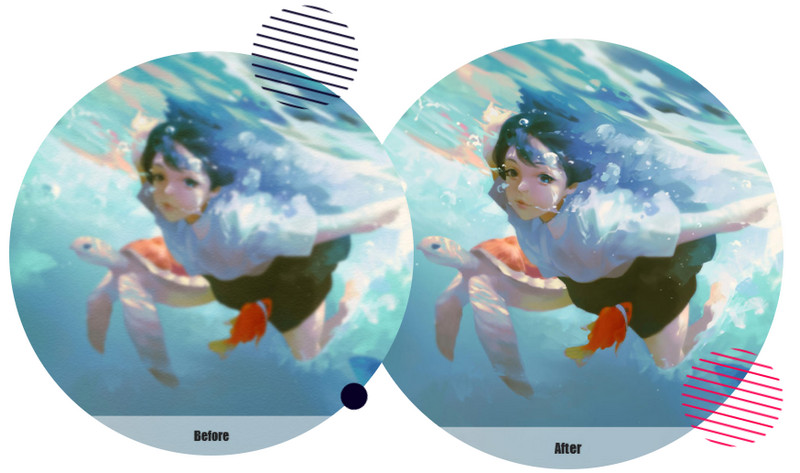 Part 1: What Is AI Image Enlarger
Do you wonder what is AI Image Enlarger? Read the content below to check out the difference between AI Image Enlarger and Normal Image Enlarger.
• AI Image Enlarger VS Normal Image Enlarger
AI-powered Image Enlarger uses deep learning to enlarge images up to 400% without losing quality. Regular or basic image upscaling methods only work on a pixel level, causing blockiness and pixelation, while AI image upscaling can smartly enlarge images and make real detail and color pop based on Generative Adversarial Networks.
---
Part 2: Top 3 Best AI Image Enlargers
In this part, we will list and compare the best 3 AI Image Enlargers in the market. You can choose the one you prefer.
1. AVCLabs AI Image Enlarger
If you wanna enlarge multiple images losslessly, from a product photo, blurry landscape image, portrait photos, anime images, to an old photo for Instagram, AVCLabs Photo Enhancer AI should be an ideal choice for batch upscaling. Driven by AI machine learning, this AI-powered image enlarger helps users accurately and automatically upscale multiple/bulk low-res images to 200%, 300%, 400% at the same time without losing quality.
It is not only an image enlarger but also an image enhancement tool that comes with advanced functionality like colorizing black and white images instantly, removing all sorts of noise, removing backgrounds from images automatically. Equipped with 5 powerful AI models: AI Upscaler, AI Denoiser, AI Color Calibration, BG Removal, AI Colorizer model, image enhancement becomes easy. A newly-added feature named face refinement under the AI Upscaler model works pretty well in retouching and enhancing portraits automatically.
Multiple input and output image formats are supported. Additionally, it also allows users to crop unwanted parts of images and set the output image format before enlarging the images.
Losslessly Enlarge Images in Batch to 200%, 300%, 400% Via AVCLabs AI Image Enlarger
Here are the simple steps to batch enlarge image resolution using AVCLabs AI Image Enlarger.
Download AVCLabs Photo Enhancer AI from the link given above and then run it after the installation is completed, you will see that it has a very intuitive interface.
Click on the Browse button in the middle of the software to add one small image or bulk of images to the program. You can also directly drag and drop the images you need to enlarge from the computer to the program. Then, these images will be displayed in the program and you can switch the tab to preview them individually.
In the upper-right panel of the software, you can choose the AI Model according to your need, or you can click "New Workflow" to create workflow.
To increase the resolution of the image, simply select the AI Upscaler model to go forward. It automatically enhances the details, texture and removes blur in your images while increasing their resolution.
You are also able to click on Image Size to select to upscale image size to 200%, 300%, and 400%.
For the portraits photos, simply turn on Face Refinement to detect and enhance every detail to make your subject look great and beautiful.
You can click on the left little square icon in the top right corner of the main interface to crop an image.
You can also click on the right little eye icon in the top right corner of the main interface to preview the effect before enlarging the small images.
Tap on the Save All button to start to upsize the image. All you need to do is wait for the AVCLabs Photo Enhancer AI to enlarge the image automatically.
Once the image enlarging process is done, you can click on the Open Output Directory button to find and check the enlarged images by AI.
---
Pros:
• Bulk enlarge images automatically
• Support enlarging the images losslessly up to 400%
• Dedicated algorithms for anime image enlarging
• Suppress noise and remove blur when enlarging images
• Available on Windows PC and Mac
• Multiple subscription plans, with the lifetime plan being a good deal
• Offer free trial service
Cons:
• Add a watermark to result in the free trial version
---
Video Tutorial: Enlarge Images without Losing Quality Using AVCLabs AI Image Enlarger
---
2. Topaz Gigapixel AI
Topaz Gigapixel AI is also an excellent AI image enlarger that allows you to enlarge pictures by up to 600%. It uses deep learning technology to let you enhance images by increasing resolution instead of enlarging pixels. The pictures rendered are crystal sharp and have no noticeable loss in detail. What's more, this AI image enlarger software also improves the details in blurry pictures after the enlarging process.
---
How to Enlarge Images Using Topaz Gigapixel AI
Let's see how to enlarge images using Topaz Gigapixel AI.
---
Pros:
• Offer a 30-day free trial
• Face detection to enhance blurry people
• Enlarge images up to 6x
• Compatible with Mac and Windows PC
Cons:
• Limited free trial
• Has an expensive one-off purchase fee, price is higher than most tools on the market
---
3. DVDFab Photo Enhancer AI
DVDFab Photo Enhancer AI is also a good alternative for enlarging and upscaling images up to 40x without any loss in quality. From images of genres of portraits, landscapes, objects, to figures for personal or business purposes, this AI-powdered photo upscaler can satisfy all your different needs in a few simple clicks. Using machine learning, this AI image enlarger accurately identifies and intelligently enhances details in images so that they will look super clear and crisp, even at extremely high resolutions. However, it is currently available on Windows PC only and is not compatible with Mac.
---
How to Enlarge Images Using DVDFab Photo Enhancer AI
Let's check how to enlarge images using DVDFab Photo Enhancer AI.
---
Pros:
• Offer a free trial for 5 photos
• Strong ability to enhance photo resolution
• Suitable for both beginners and experts
Cons:
• Only compatible with Windows
• It is a bit cumbersome to use if you're a beginner
• Processing time can be a bit slow when enlarging photos
• It's too much expensive
---
Bonus: Best AI Image Enlarger Online to Losslessly Enlarge Images Online for Free
---
Enlarge Images Online for Free Using AVCLabs AI Image Enlarger Online
It's super easy to use AVCLabs AI Image Enlarger Online to upscale images online for free. Let's get started.
---
Pros:
• Powerful AI to enlarge the low-res image to high resolution without quality loss
• Losslessly enlarge image online up to 4x
• Support unblurring image
• Completely Web-based, Google Chrome, Firefox, Safari are supported
Cons:
• Cropping the image is not supported
• Limited output format, do not support setting the output format
• A good network condition is needed during the whole process
---
Conclusion:
As you can see, these AI image enlargers mentioned above allow you to enlarge images without losing quality. For someone who is not tech-savvy, DVDFab Photo Enhancer AI and Topaz Gigapixel AI can be a little difficult to use. Both of them are expensive for non-professionals. DVDFab Photo Enhancer AI is available for Windows only. AVCLabs Photo Enhancer AI is fully compatible with Windows PC and Mac and mainly provides its users with 3 subscription plans: Monthly Subscription, Annual Subscription, Lifetime Plan. For each subscription plan, there is no limit on the number of images enlarged. The most popular subscription plan is the $19.95 monthly subscription, which is reasonable and affordable. If you wanna get rid of the tedious to-be-installed software, a web-based free online AI image enlarger- AVCLabs AI Image Enlarger Online is a perfect choice.
Try AVCLabs Photo Enhancer AI to breathe new life into your old photos!
---

Video Converter

DVD Converter

Video Editor

Enhance Video Quality

Enhance Image Quality

Remove Objects